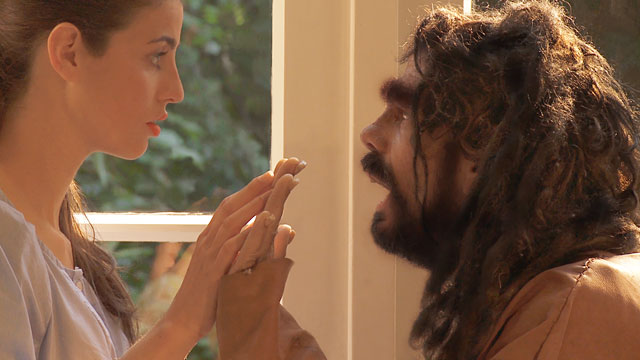 In questa "screwball comedy" europea, anche chiamata Neander-Jin, che gioca con molti generi e stili narrativi, Florian Steinbiss racconta la storia di un uomo di Neandertal che in circostanze misteriose si materializza nella Germania di oggi e cerca riparo nella casetta da giardino di Barbara van Schmerling, una giovane studentessa di progettazione ambientale. Lei lo prende sotto la sua ala protettiva per cercare di salvare "il prototipo dell'uomo naturale e autentico, l'ultimo testimone vivente della maschilità preistorica" dalle influenze deleterie di un arrivista e di un antropologo avido di potere e assetato di visibilità mediatica. Anche se non riuscirà a salvarlo dall'influenza della corrotta civiltà occidentale, i suoi sentimenti altruistici si tramutano ben presto in sentimenti romantici, il che le imporrà la scelta tra scendere a compromessi con i propri principi etici o perdere l'unica persona – anche se primitiva – per cui abbia mai provato un sentimento di amore sincero. Allo stesso tempo l'uomo di Neandertal sarà costretto a scegliere tra Barbara, l'unica persona che lo ama per quello che è veramente e l'ammaliante canto delle sirene, valigie piene di banconote e vagonate di orsetti gommosi secondo il motto "All you can eat".
Ci sono immagini che risuonano dentro di noi e restano impresse. Non smetteremmo di riguardarle. Neander Jin, un film che ha già ottenuto diversi riconoscimenti, entra in contatto con le persone proprio in questo modo. A far scattare la scintilla sono, in particolare, un uomo delle caverne e una giovane donna di oggi, un'universitaria perfezionista e determinata. Il film, dall'effetto ipnotico, è una rilettura più profonda di La Bella e la Bestia, una commedia o meglio una comedy dai molteplici registri, una satira politica e di costume, in grado di far appassionare giovani e meno giovani...
Il ritorno dell'uomo di Neandertal, una pellicola che ha il pregio di non si prendersi mai del tutto sul serio, sfodera un catalogo sgangherato di varia umanità, tra cui spiccano: studentesse di college più mature della propria età ed entusiaste della vita, addetti alla manutenzione di pompe idriche col senso del dovere e l'animo nobile, superiori patriottici, un'accoppiata di professori di dubbia fama, scienziati pazzi, mercenari da strapazzo, arrivisti rampanti, antropologi e cronisti di gossip, senza risparmiare la TV sensazionalista e un gioco di rimandi parodici a generi quali la parodia, la science-fiction, sequenze oniriche, elementi di cinematografia sperimentale e da film muto, l'intero spettro dal surrealismo all'assurdo. Qui gli spettatori si divertono per davvero, ridono parecchio, sono intrattenuti e a volte estremamente coinvolti da una narrazione a più livelli che intreccia generi e stili diversi – con un tocco del tutto originale.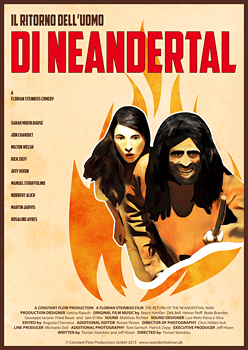 Directed and Produced by
Florian Steinbiss
Written by
Florian Steinbiss & Jeff Hixon
Director of Photography
Chris Hilden bvk
Casting
Avgusta Cherneva
Executive Producer
Jeff Hixon
Editor
Avgusta Cherneva
Additional Editor
Ronen Pestes
Music
BHP Film Orchestra
Bruce Hanifan
Heiner Reiff
Bodo Brandes
Fried Bauer
Giuseppe Iacono
Jam El Mar
Trailer Music
Ricardo Gidon
Music performed by
BHP Film Orchestra
BlechHarmoniker
Stuart Wilson Turner
Pocket Radio
featuring Jon Chardiet & Jeff Hixon
Manuel Struffolino & Band
Sarah Mühlhause
Line Producer
Michaela Doll
Production Manager
Antonia Baedt
Unit Manager
Esther Wise
1st Assistant Director
Avgusta Cherneva
2nd Assistant Director
Bastian Caspar
Maria Gans
Assistant to Florian Steinbiss
Maike Herrmann
Boom Operator
Torsten Lenk
Location Sound
Matthias Richter
Production Assistants
Eva Lauck
Björn Seib
Alina Klöden
Production Bookkeeper
Eva Lauck
Production Accountants
Andreas Krause
Eggesiecker & Partner, Cologne
Kurt Hoppstein
Legal Representation
Dr. Claus Recktenwald
Schmitz Knoth Rechtsanwälte
Production Public Relations
Televisor Troika GmbH, Cologne
Michael P. Aust
Mareike Winter
Assistant to Production Manager
Rebecca Westerschulze
Set Runner
Marco Siegmund
Location Scouting
Björn Seib
Antonia Baedt
Art Director & Production Designer
Leticia Raasch
Additional Set Design
Friedemann Sander
Set Construction
Marko Nedic & Philipp Kruse
Garden Landscaping
Jürgen Biecker
Dialogue Editor
Luiz Melo Paiva e Silva
1st Assistant Camera
Patrick Zepp
2nd Assistant Camera
Patrick Gilgenbach
Script Continuity
Markus Berera
1st Assistant Editor
Patrick Zepp
2nd Assistant Editor
Jennifer Sperling
Visual Effects
Jennifer Sperling
Pre Edit Daylies
Maria Gans
Maike Herrmann
Costume Design
Leticia Raasch
Avgusta Cherneva
Designer for Sarah Mühlhause
Stefanie Franzius
Neander-Jin Costume Provided by
Neanderthal Museum
Shamans Costume Provided by
Willi Schaefer Erkrath
Set Dresser
Alina Klöden
Special Effects Make Up Artist and Hair Stylist
Félicité Ruiz Vera
Make Up Assistant
Christian Schrör
Special Effect Make Up Design Neander-Jin
Tom Devlin
Hairstylist of Florian Steinbiss and Jeff Hixon
Fernandes, Cologne
Still Photography and Additional Videography
Charles Hixon
SFX on set
Sven Kühn
Animal Trainer
Aurelia Hornung
Claudia Neumann
Rucolino Dog and Chickens
Ingeborg's Animals
Antique Mercedes
Willi Schaefer Erkrath
Helicopters
Action Concept GmbH
Helicopter Pilot
Marcus Steffen
Traffic Control
Cine Block GmbH
Historic Consultant
Dr. Baerbel Auffermann
Visual Production Consultant
Dr. Michael Neubauer
Produced in Association with
POINT. 360 WEST
Post Production Facilities provided by
Point. 360 WEST, Los Angeles
General Manager & Executive in Charge of Post Production
Jeff Hixon
Re-recording Mixer
Mitchell Lindskoog
Sound Design
Luiz Melo Paiva e Silva
Sound Editor
Erik Brena
ADR Recordist
Christian Zerpa
Assistant Sound Editor
Breanna Wood
Finishing Editorial Supervision
Ronen Pestes
Online Editor
William Lehr
Color Timer
Ronen Pestes
Color Consultant
Chris Hilden
Post Production Co-ordinator
Alice Stanton
VFX by EdenFX at Point.360 WEST, Los Angeles
Supervising Director of Visual Effects
Jason Hearne
Visual Effects Artist
Jeff Kaplan
Il ritorno dell'uomo di Neandertal ha conquistato i festival USA.
Il film è entrato nella "Official Selection" in oltre quindici diversi festival del cinema statunitensi e si è aggiudicato tredici premi.
A inaugurare la pioggia di riconoscimenti sono stati i premi "Best of Show" ricevuto all'Indie Fest di La Jolla, "Emerging Narrative Feature Filmmaker" al Geneva Film Festival, Illinois e il "2nd Award Feature Comedy" all'Indie Gathering nell'Ohio. Gli attori Jon Chardiet e Rick Zieff hanno poi portato a casa il premio n. 4, "Best Feature Film", ottenuto al Vegas Cine Fest di Las Vegas.
Il premio n. 5 è stato particolarmente apprezzato da Florian Steinbiss e Jeff Hixon, fan di Van Morrison: in occasione del 12° Moondance Festival di Boulder, Colorado, hanno infatti ricevuto uno "Starfish" nella categoria Comedy Feature Film.
Il premio n. 6 è stato assegnato dal JamFest Indie Film Festival di Hammond, Louisiana.
Il premio n. 7 ha entusiasmato il regista: "Best Direction in a Feature Film", elargito dal New York State (Buffalo Niagara Film Festival).

Il premio n. 8 arriva "dal cielo" ossia da un film festival virtuale che è ormai diventato di culto. Lo Skyfest VI ha assegnato il quarto premio nella categoria Feature Film a Il ritorno dell'uomo di Neandertal. In questo caso era in palio perfino un assegno, sia pure poco più che simbolico. Il discorso di premiazione pronunciato da Ralph Roberts che circola in rete è un must da veri intenditori.
Probabilmente qualcuno ci sarà già stato da turista, e in segreto andare a lavorare lì è un po' l'aspirazione di tutti noi. In occasione del "Mockfest of Hollywood", Il ritorno dell'uomo di Neandertal si è aggiudicato una più che dignitosa "Honorable Mention", portandosi così a quota 9 premi.

Premio n. 10: "Official Best of Fest"
Premio n. 11: "Honorable Mention", Los Angeles Movie Awards, L.A, California.
Premio n. 12: "Excellence Award", Rincón International Film Festival Puerto Rico.
Premio n. 13: Narrative Film Competition "Bronze Award", 2012 Oregon Film Awards.
Selezioni ufficiali
Columbia Gorge International Film Festival
(Angaelica Film Festival)

Central Florida Film Festival

Rome International Film Festival

Naperville Independent Film Festival

Tenerife Film Festival

Vegas Cine Fest

Scottsdale International Film Festival

Boston Science Fiction International FF

Ischia Film Festival

Hoboken Film Festival

Geneva Film Festival

The Indie Fest

The Indie Gathering

Long Island Film Festival

FiLUMS - Lums International FF

Dhaka International FF

Tamil Nadu Internatinal FF

Pune International FF