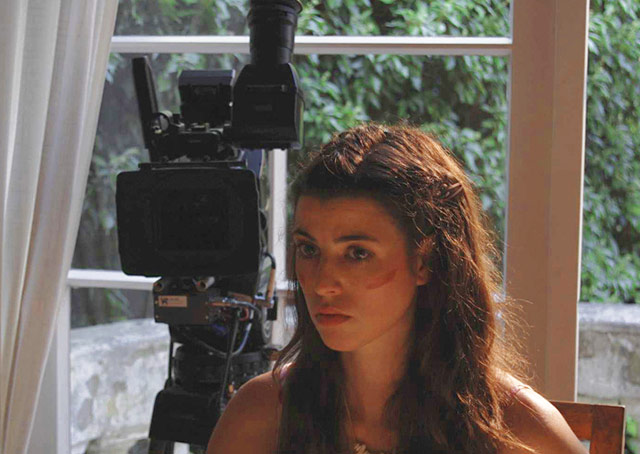 Sarah Mühlhause was born in Berlin and studied acting im Freiburg/Breisgau, where she also appeared on stage performing various plays. 2002 she moved to Madrid, where she shot commercials for Coca-Cola and Nestlé. Then the first film roles came (The time that is called life, ZDF 2008). Moreover, she was part of a video of the band Liquido. She celebrated a great success in 2009 with the Spanish film Fuga de cerebros, which had its première at the Film Festival Malaga and won the audience award. The film reached the first position in the Spanish cinema charts. In Germany she became nationally known playing a major role in the daily television sequel Anna und die Liebe on SAT.1 for the role of Carla Rohnstedt for which she received the German Soap Award.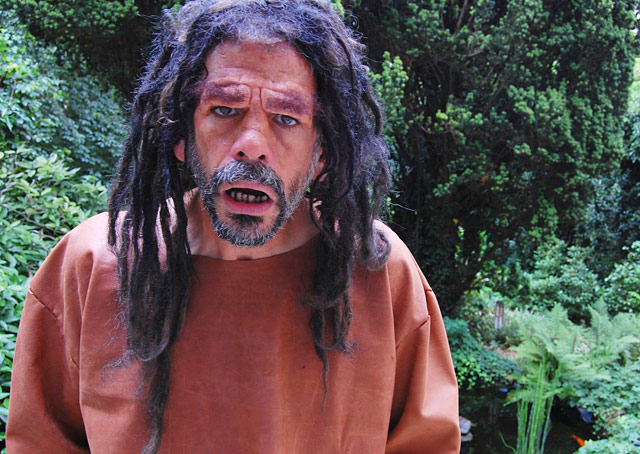 Among Jon Chardiet's various roles portrayed in film and television are: Wolfman, Igor, Homo Erectus, a pimp, various and assorted terrorists, a Ukrainian mystic, a couple of gangsters, a Russian soldier, a psycho construction worker, a bank robber, a cop, a graffiti writer, a socialist, an Eurotrash doorkeeper, Adolf Hitler, Roy, and finally, as Neanderthal Man.
Jon has been shot in the chest and stomach, stabbed in the back, electrocuted on the third rail, beaten by an assortment of leading men, been arrested, been frozen, and seen the Virgin Mary. Jon has raped, robbed, assembled and delivered an atomic bomb in a suitcase, and had long make-out sessions twice on screen.
In various settings including radio he has worked with or near, Charlie Sheen, Chris Tucker, Charles During, Marsha Mason, Jeffery Jones, Hector Elizando, Jennifer Tilly, Harry Belafonte, Grandmaster Flash, Doug E. Fresh, Jon Voight, Keenan Wayans, Rae Dawn Chong, Bonnie Franklin, Rosemary Clooney, not counting all the greats he's worked near in The Return of the Neanderthal Man. Sarah Muehlhause, Martin Jarvis, Rosalind Ayres- what an honor and privilege to be on the set with such wonderful actors.
Jon is thankful for being given the chance to play in The Return of the Neanderthal Man, not only for getting the chance to play a major role without words, but to work for Mr. Steinbiss, a major talent.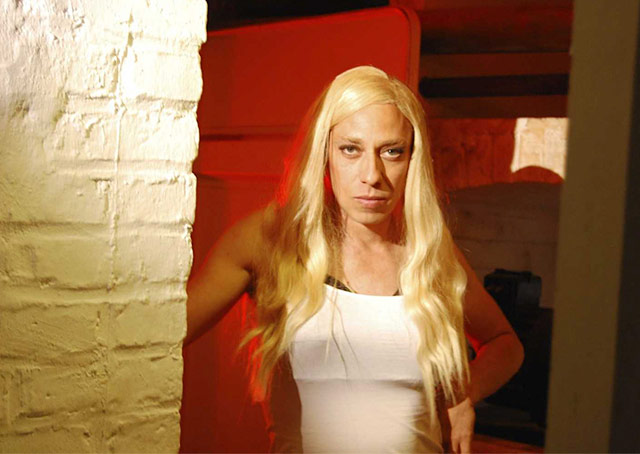 Milton Welsh is one of the most versatile German actors of his generation. He was born 1968 in Kassel and is currently living in Berlin. He is a graduate at The Actors Studio of Lee Strasberg in New York and became nationally known through various commercial spots, including a TV-spot with an enormous cockroach for MTV and a spot for Burger King. The wide range of his theater work includes an on going German tour with the piece Caveman produced by Esther Schweins, appearing together with Ingolf Lück. His numerous TV-gigs include collaborations with Uwe Ochsenknecht and Heike Makatsch.
Besides playing the role of Marc Armagnac in The Return of the Neanderthal Man, movie credits include Conan (Markus Nispel) and The Ghostwriter (Roman Polanski), Blutzbrüdaz (Özgür Yildirim) and Grand Budapest Hotel (Wes Anderson).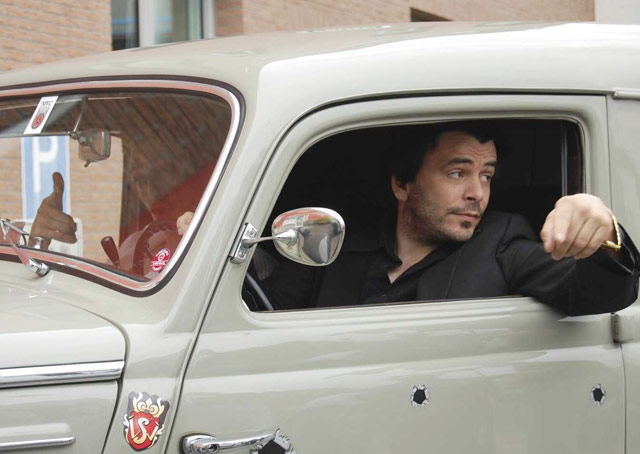 The actor, active on stage, television, screen but also musically, completed his apprenticeship as "Eleve" at the Playhouse Cologne under the directorship of Günter Krämer and Torsten Fischer. Manuel Struffolino acted in various short-films and television productions (i.a. Tatort (Crime Scene), Soko Leipzig, SK-Kölsch). Between 2004 and 2007, he was constant ensemble member of the State Theater Gießen. For the last two years he has played as a guest actor on various scenes (i.a. Ernst Deutsch Theater Hamburg, Schloss Neersen Festival, Gießen State Theatre and Karlsruhe State Theatre). After celebrating his first cinema début with the film Selectivity (in German Trennschärfe) at the beginning of 2009, he just finished the shooting of the German- American co-production The Return of the Neanderthal Man. Furthermore, he had a guest appearance at the Karlsruhe State Theater and newly at the Gostner Court Theater in Nuremberg with the solo act Thom Pain - based on nothing (Will Eno, Direction: Andreas Bauer), play which was nominated for the Pulitzer Prize and had the première at the Gießen State Theater.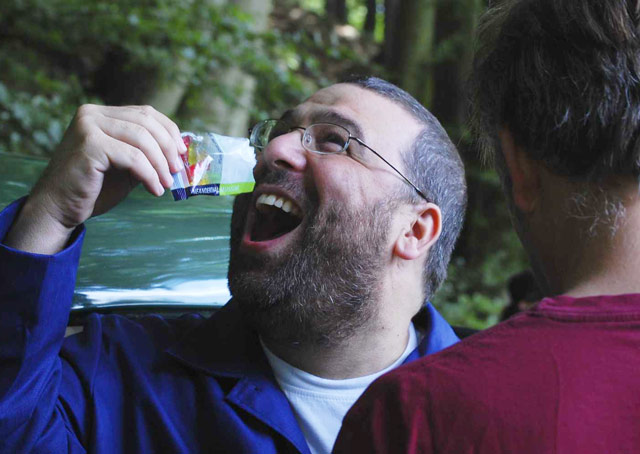 There are probably a few actors one can get away with saying "You Dog". Maybe Rick Zieff is one of them. He was the voice of the dog that Jack Nicholson liked so much in As Good as it Gets, not only that. He worked on screen together with Johnny Depp, Mickey Rourke and Arnold Schwarzenegger. Among other films he appeared in Mississippi Burning, Terminator 3 and numerous television series including Law and Order, Melrose Place, Beverly Hills 90210 and recently in Law and Order, Los Angeles. At his first appearance in Germany he did not play Yiddle with a Fiddle, he embodied Martin Arnold, a German water district employee who was the first one to discover the return of the Neanderthal Man and was put in this believe into a lunatic asylum. Comedy meets tragedy. The right stuff for Mr Zieff. He gained more than 100 pounds to play the role of Martin Arnold.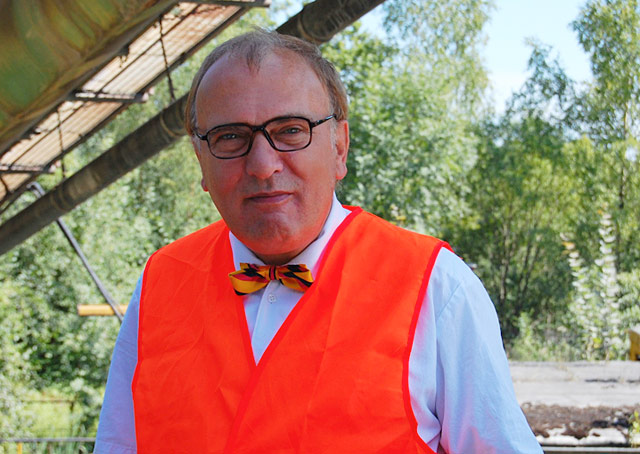 Norbert Alich, born 1955 in Weissenthurm/Rhein, absolved his state examination in German Language and Literature Studies and History. Additionally, he took private Piano-, Vocal- and Acting-Lessons.
Norbert Alich is on stage since he was eleven years old. He started with theater in school and continued in University. He is working as a cabaret artist since 1983. He created 3 Solo-shows. Together with Rainer Pause (Fritz Litzmann), Alich acted as the character Herman Schwaderlappen in the Cabaret-Duo Fritz und Hermann in nine Duo-shows. Since September 2006 he is hosting his own TV show for the WDR, a German TV station. Beyond that he worked as an actor for several TV-productions, e.g. Lukas (ZDF) and Wochenschau (SAT.1). He entered the cinema with the movie The Return of the Neanderthal Man, directed by Florian Steinbiss. From 2020 on he is planning to be a pensioner with sideline jobs on stage.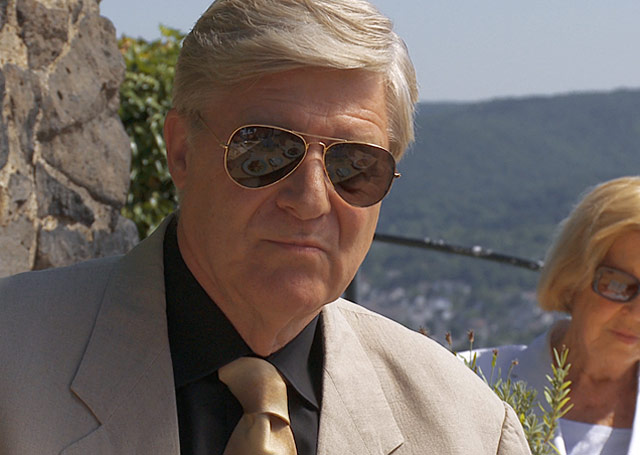 Martin Jarvis is one of Britain's best loved and most prolific actors. He enjoys an international career that in recent years has seen him busy filming in Los Angeles, New York, London and in Africa and Australia. He has recently filmed Funny or Die in Hollywood with Danny DeVito, written and directed by David Mamet. Martin Jarvis' feature films include the multi-Oscar winning Titanic as `Sir Cosmo Duff Gordon' opposite his wife Rosalind Ayres. The British psycho-thriller Framed, award-winning Buster (with Phil Collins), Mrs Caldicot's Cabbage War (with Pauline Collins), Taste the Blood of Dracula (with Christopher Lee, Warner Bros.), The Bunker (with Anthony Hopkins and Piper Laurie) and The Last Escape (Universal). He starred opposite Gemma Jones in the Australian/British co-production Bootleg. He won the Theatre World Award on Broadway for his title role performance in By Jeeves (music by Andrew Lloyd Webber, book by Alan Ayckbourn) which he also filmed for American television in the acclaimed series Great Performances. In the English speaking world there is no stage he has not performed on. There is no classical theatre role he hasn't played. There is no major literature he has not recorded as an audiobook. There is no British television series he has not appeared as a guest. Playing the media mogul Peter Blodnik was his second appearance in Cologne Germany. His first appearance was a guest performance as a theatre student in a classical play 50 years ago.
His autobiographies Acting Strangely and Broadway, Jeeves? are both published by Methuen. Martin's countless audiobook recordings, including Just William, are world wide bestsellers. In 2000 he was awarded the Officer of the British Empire by Her Majesty the Queen for his services to drama. He was delighted to have revisited Cologne, Germany to shoot this highly original movie with his old chums Florian Steinbiss and Jeff Hixon.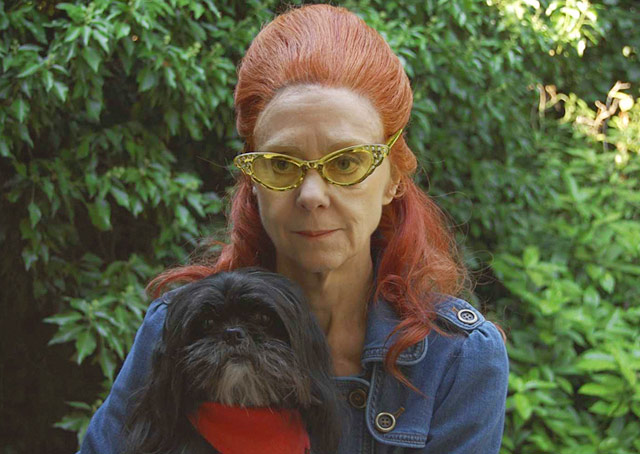 Rosalind Ayres numerous film roles include Lady Lucille Duff Gordon in James Cameron's multi-Oscar-winning Titanic and 'Elsa Lanchester' in the Oscar-winning Gods and Monsters. She starred in the Cannes Film Festival award-winning Beautiful People and in Christmas in the Clouds. Lately she filmed in Tanzania, E. Africa for a BBC film series Taking the Flak, with her actor/director husband Martin Jarvis. Her many screen appearances in Britain include: A recently completed leading role in the new hit series Outnumbered, roles with a distinctly medical theme in popular UK series like Doctors, The Royal, Holby City, Heartbeaf and Casualty.
She was a series regular in Trevor's World of Sport and highly suspicious in Midsomer Murders. In America: Just Shoot Me, Chicago Hope, Profiler, A Face to Die For, Sabrina the Teenage Witch, Country Matters. In the West End she played 'Calpurinia' in I Claudius, 'Lena' in Michael Frayn's Exchange, and 'Jacqui' in the première of his play Now You Know at Hampstead. Her second job in the theatre was appearing in Peter Brook's legendary production of A Midsummer Night's Dream on Broadway.
Her numerous BBC radio performances include starring roles in Pack of Lies, A Small Family Business, Make and Break, Antony and Cleopatra. She has also directed many award-winning dramas for BBC, including the broadcast première of David Mamet's Glengarry Glen Ross and the world première of his play Keep Your Pantheon. She is thrilled to be working on this movie with her old friends Jeff Hixon and the director Florian Steinbiss.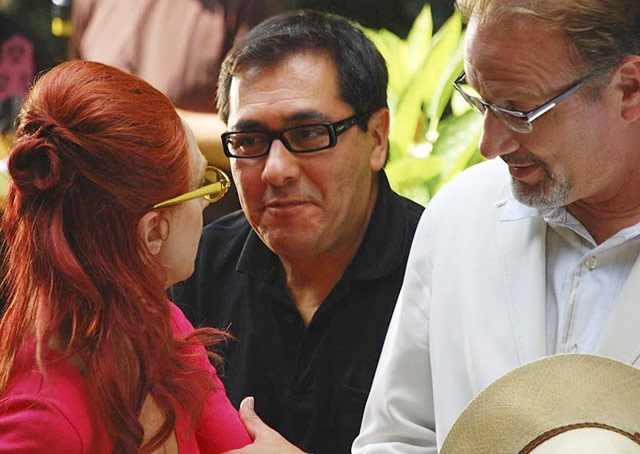 Jorge Ramírez-Suárez was born in Mexico City. He holds a Bachelor of Arts degree in Political Science (UNAM), a Photography Diploma (EAF) and a Film Studies degree from the Mexican Centro de Capacitación Cinematográfica (CCC), one of the most prestigious film schools in the Spanish speaking world. While studying film he began working as assistant director and then producer before he started his career as director. His film Rabbit on the Moon was shown as an official selection of the Berlin Filmfestival and sold worldwide. His film Amar was a Box Office hit in México. He has now also a German passport and is very proud to be a German, and he is even more proud that his children Antonia and Fabio act as Norbert Alich's children 'Fritz and Heike' in the film The Return of the Neanderthal Man. His most successful movie Hello, Ramon plays in México and Germany. It is distributed by Fox.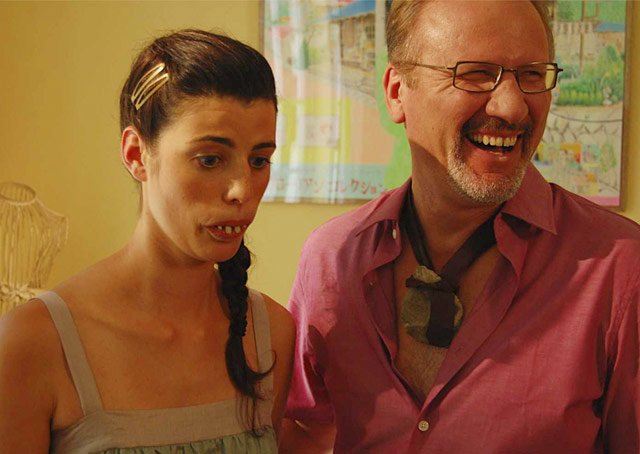 Jeff Hixon was born in the Midwest in Indianapolis, Indiana but lived most of his adult life in California. He has had at least three professional lives not mentioning the others. Back in the San Francisco days in the late 70th and early 80th he had as a guitarist his own band and also wrote songs as a singer and song writer. In the late 80th he moved to Los Angeles and started a career as an actor. Later with two children and bills to pay he started his own recording studio Voice Box which later became Video Box and also was he founder of Voicebank which to this day is the leading company for voice casting mainly for advertising agencies and animation studios.
In the movie The Return of the Neanderthal Man he was able to bring in all his different talents and skills. Crossing the Atlantic many times he co-wrote the original script with the German director Florian Steinbiss. He played the role of the American media professor Jack Gallow and he composed the music for the main theme and love-song Neander Jin which was performed by Sarah Muehlhause. His current L.A. band Pocket radio featuring Jon Chardiet on guitar re-recorded the old hit song Neanderthalman, which can be heard several times throughout the movie. As an executive producer and an executive in charge of post production he also oversaw the technical aspects of the production both including video and audio giving the production a state of the art look and sound...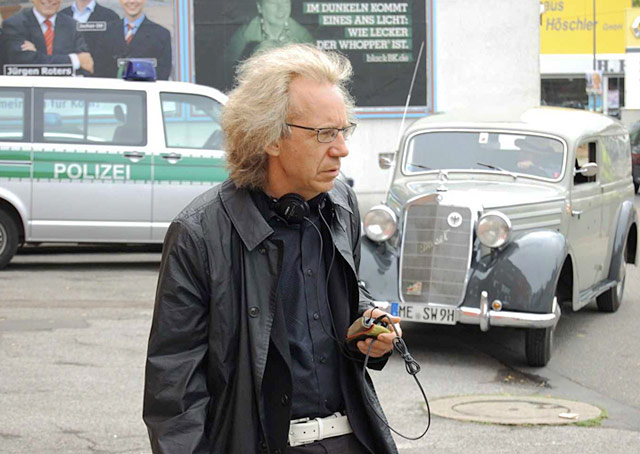 After his studies in psychology at the University of Bonn Florian Steinbiss worked as writer, director and producer mainly for the WDR (Westdeutscher Rundfunk, Cologne). His documentary Propaganda Swing - Dr. Goebbels' Jazz Orchestra was translated into 4 languages and shown in more than 10 TV-channels worldwide.
Currently he focuses with his company Constant Flow Productions GmbH on feature films and the development of English co-productions like The Return of the Neanderthal Man and Dance Floor Paradiso.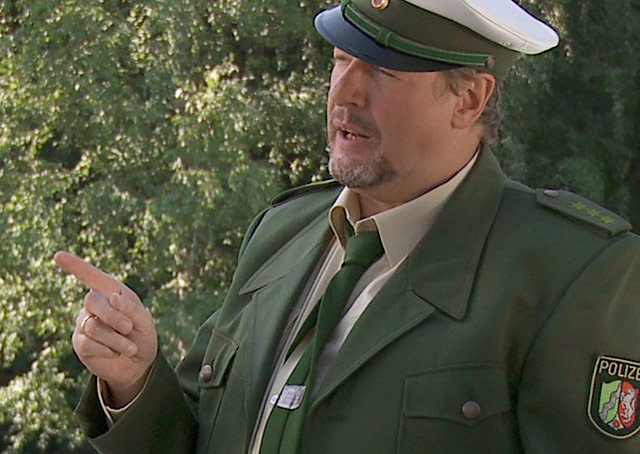 Achim Konejung, born 1957 in Krefeld, Germany, is working as a cabaret artist, actor and author since 1979. Together with Horst Schroth, Mathias Beltz, Heinrich Pachl and Arnulf Rating was a member of the Reichspolterabend (empire wedding-eve party). Achim Konejung is co-author of the cult movie Der Superstau, in which he as well played the part of the Commander. This movie was followed by several solo shows. He is awardee of the "Deutscher Kleinkunstpreis" and the "Deutscher Kabarettpreis".
Since 2004 he is chairman of a culturally-orientated non-profit foundation. Additionally, Achim Konejung is currently working as an author and as head of various historical und cultural projects within the Rhineland, e.g. in the documentary field. At present he is living near Cologne, Germany and appeared on stage again with the ensemble Schlachtplatte and other cabaret and comedy acts.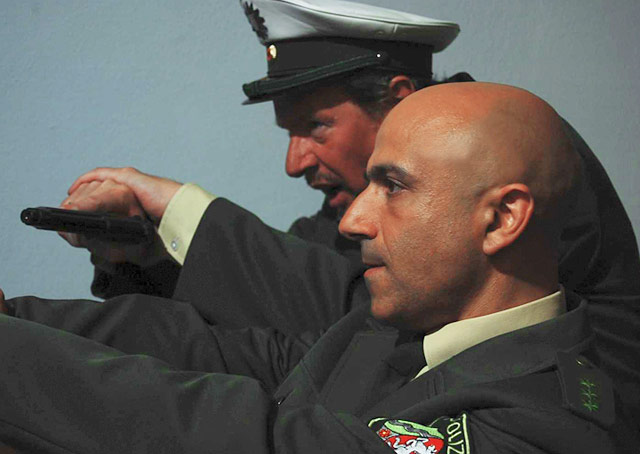 Max Tuveri, born in 1969, started his career at the theatre with the comedy Heiß am Stiel in 1996. Until now he acted in various plays, e.g. Ritter Rost, where he played the leading part, or Die Vögel (The Birds). The first time he appeared on TV was in the television series Aus gutem Hause (ARD, Germany). Later, Max Tuveri had guest parts in several series, sitcoms and comedy shows. In 2008 he played the leading parts in two short films: Glückskekse and The Date. Under the direction of Amos Gitai he entered the international parquet in the European co-production Disengagement. Recently Max Tuveri acted in the Florian Steinbiss movie The Return of the Neanderthal Man. Max Tuveri took various Camera- and Method-Acting-Workshops (M.K. Lewis, John Costopoulos, Walter Lott). Alongside, he graduated from the Cold Reading Hollywood Acting Workshop (HAW) in Los Angeles under Margie Harber and was a student of Tom DiCillo and Mel Churcher. He is currently living in Cologne, Germany.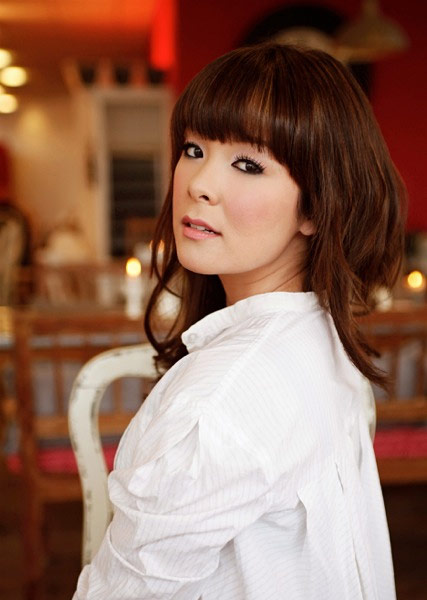 © JessyLee Photographie

Nela Panghy-Lee a German citizen of Korean German descent and the rising star among a new wave of German Talkshow -hosts and -presenters.
She started her career in 2004 with the German music channel VIVA, presenting after a while more and more important shows. She also began working as an actress. Among others for the daily telenovela Routes of Happiness on ZDF, where she appeared in 40 episodes.
In 2007 she started backstage interviews for Wetten, dass … (ZDF). She interviewed (also for other formats) Robbie Williams, John Cusack, Black Eyed Peas, Nicolas Cage, Joe Cocker and Robert de Niro. She also worked for RTL, RTL II, ZDF and SWF, covering most of the Germanies Public and Private Stations. She became nationwide known when she began to appear in the daily Boulevard magazine taff (ProSieben). 2009 and 2010 she cohosted the after show celebration party of Germanys most famous TV show Wetten, dass …. in Mallorca.
She is also popular among teenagers and even younger audiences. 2010 she represented in L.A. the German participation for the "Kid's Choice Award" on Nickelodeon. In Germany she hosts various shows on The NICK Channel and also presents the renewed BRAVO TV-format. Due to her popularity with children she rejected various offers by the German Playboy magazine to pose nude. In the Movie The Return of the Neanderthal Man she portrays the needy wanna-be-actress Chantal who at first auditions in the wrong whirlpool, belonging to the loser Marc Armagnac (played by Milton Welsh). Later she falls in the arms of the Australian Media Mogul Peter Blodnik (played by Martin Jarvis Titanic) and becomes a….. TV-presenter….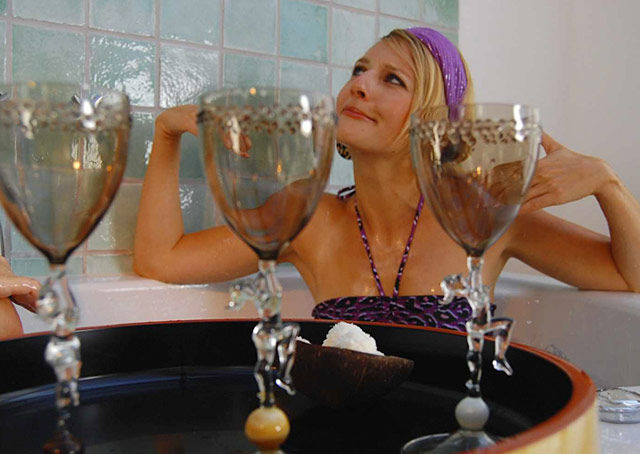 As a child, Kirstin Hesse took canto and dance lessons and participated in the 90's in various regional and national singing competitions. She was made known to the wide audience in 1999, when she won the preliminary round of the German Soundmixshow and participated in the European version of the same singing competition. Afterwards Hesse took private acting lessons and appeared since 2000 in various supporting roles in movies and on television, including guest appearances in Up in Love the RTL series My life and I (2004) or Leander Haußmann's cinema movie Robert Zimmermann is tangled up in love (2008). Her collaboration in the RTL-Sitcom Angie brought her and the rest of the ensemble (Mirja Boes and Angelika Milster) a nomination for the Bavarian Television Award.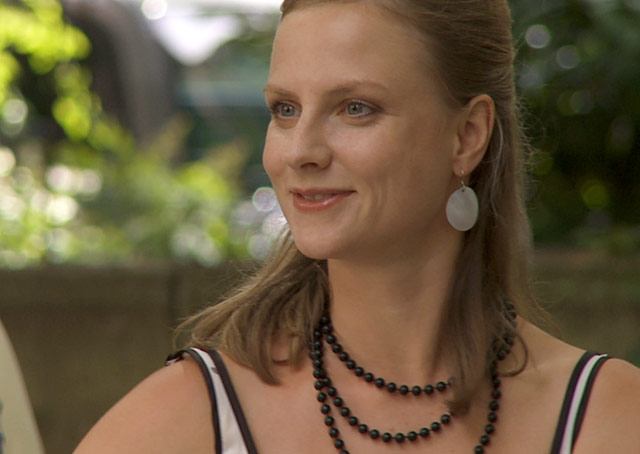 In 2004 Dörte Niedermeier graduated at "Laine Theatre Arts Studios" in Epsom, England. During her training and studies in acting she gained stage experiences as a musical actress and among others acted in Honk!, Dreams from a Summerhouse and Little Me at various theatres in London. Mamma Mia! was Dörte's first musical engagement in Germany, in which she performed the Sophie and Lisa in Hamburg respectively in Berlin. Further engagements followed as Minnie Fay in Hello Dolly! and as Hildegard in Titanixen, for Fliegende Bauten Hamburg, for Evita and Aida at Freilichtspiele Tecklenburg. Cameo appearances as a singer, dancer and actress are also counted among her activity field; amongst others for Stars for Free, Goldene Stimmgabel Verleihung, Schuh des Manitu, José Carreras Gala and for Scharlatan Theatre Hamburg. For the musical Tarzan she was jointly responsible for the children as an assistant of the children management. She also stared in the Musical I have never been to New York in Hamburg.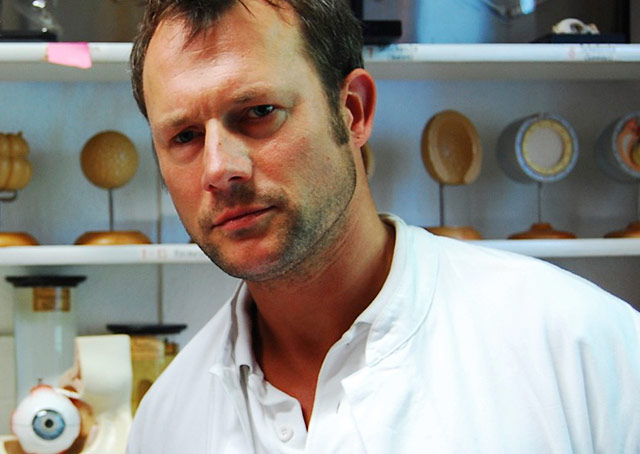 Hanno Friedrich was born in Wuppertal. He spent his school years in Germany and in the Netherlands. After his acting studies at the University of the Arts Berlin, he was member of the ensemble at the Staatstheater Oldenburg, at the Theater Basel and at the Acting Bonn, where he worked with directors such as Michael Thalheimer, Frank-Jürgen Gosch and Patrick Steckel. After his screen debut as a 'Heinz' in Otomo playing with Eva Mattes, Barnaby Metschurat and Isaach De Bankolé he became known as a Comedy-Star. Since 2002 he plays in the series Six Pack. He had other roles in the series Balko, Tatort, SOKO Köln, Edel und Starck, in the crime drama Bella Block - Behind the Mirror, Ladyland and 112 - You save your Life. On stage, he was among others in Don Karlos (Schiller), The Black Rider, Hair and Geschlossene Gesellschaft. In the Music-Comedy Show ABBA jetzt! and its sequel ABBA jetzt! 2 he works with the actor Tilo Nest and the musician Alexander Paeffgen, both also very successful. For ABBA now! The trio received the 2003 Small Art Prize Baden-Wuerttemberg.
In 2007 he won the Indie-Stars-Awards 2nd Place with his first short film Moebius (directed by Steffen Wimmer), in which he was actor, writer, music and film producer. He also received for his team film production of the comedy series Six Degrees the Team Film Award in gold. In 2009 he starred with the Bonn Opera Bassa Selim in Mark Dietz ' staging Mozart's Abduction from the Seraglio.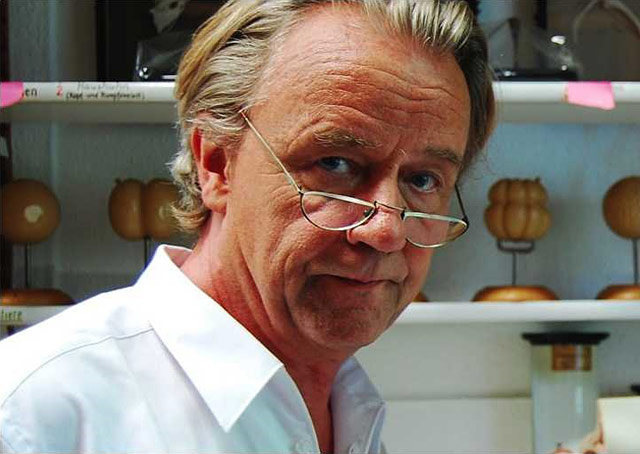 Axel Siefer plays Kurt Lowinski, the father of Danni Lowinski, a SAT1 TV-series that won the German Television Prize. He is frequently seen on television and in films, but his love is the stage of the independent theatres, where he also works as a director. His claim to fame is performing Patrick Süßkind's (author of The Perfume) solo play The Kontrabass, more than 1000 times in 25 years. He toured and got prizes all over Europe and wrote a book about the unique experience of being married with the play for a quarter of a century and the occurring changes in his performance over the years.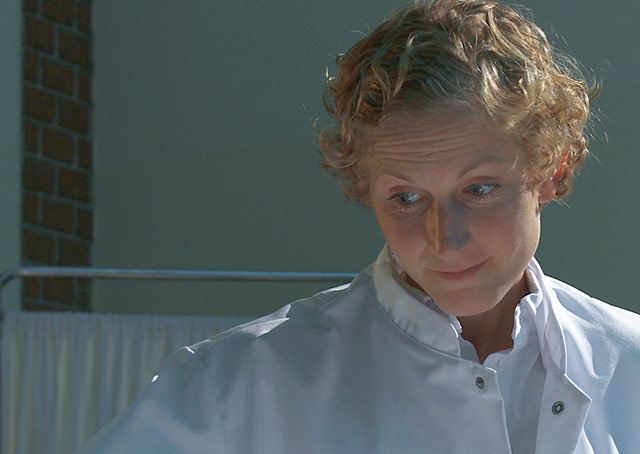 Salome Noah was born 1972 in Basel, Switzerland and is living in Berlin and Basel. After graduating from the prestigious Hochschule for Theater, Zürich she received additional training in New York and Los Angeles and worked mainly for theatres: Stadttheater Basel, Stadttheater Bern, Junges Theater Essen, Stadttheater Krefeld and Altes Schauspielhaus Stuttgart.
She also appeared in numerous short films (dffb Berlin, KHK Köln, Filmakademie BW) and in Jazz (Direction: Daniel Helfer; Catpics/Calypso Film Köln), Nachts im Park (Direction: Uwe Janson, Fama Film, Zürich) or Welcome to Estonia (Direction: Oliver Frohnauer, arte TV).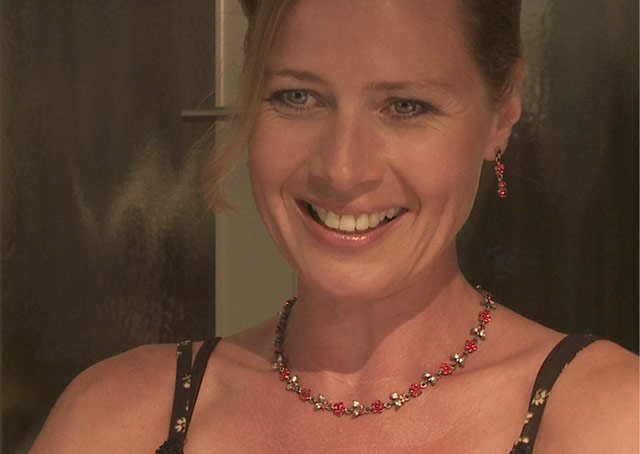 Beate Bohr is busy and well known in the so called "Rhineland" and its major cities Cologne, Duesseldorf and Bonn. After receiving her training at the "Theater im Keller", Cologne, she performed at theatres in Aachen, Osnabrueck and Koblenz.
She was also a member of the prestigious ensemble Cabaret/ Comedy ensembles Kommödchen, Stunksitzung in Cologne. Since 2005 she is a member of the popular Pink Punk Pantheon Ensemble in Bonn, where she plays, like in the movie The Return of the Neanderthal Man, together with Norbert Alich. Besides numerous TV appearances, she is the lead in the WDR television series Der dritte Bildungsweg with Jürgen Becker.